Performances
---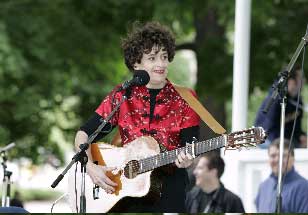 See Tsufit LIVE:"Step Into the Spotlight".
WIN Faculty Club U of T Monday June 23, 2008 7pm Register at www.winandnim.com
October 7, 2008 at Ewomen Network Toronto Register at www.ewomennetwork.com
November 5-6, 2008 International Business Women's Summit, Moncton, NB, November 13, 2008 SOHO Business Women International, Toronto, Feb 23-28, 2009, Women With Vision Conference at Sea Cruise, Register www.womenwithvision.ca
MORE ON TSUFIT'S SEMINARS AT www.followthatdream.ca

Catch TSUFIT on T.V. as Ludmilla, the comedically evil cafeteria lady, on Y.T.V.'s "System Crash" (aired nationally)or see her do the Tomato Tango on an East Side Mario's Commercial. Europeans may catch a glimpse of TSUFIT, also coincidentally dancing with vegetables, (Hey everyone's got to have a specialty!) in a beautifully filmed European Cinema Commercial.
Watch this site for upcoming Live Performances in your area.

In the meantime, grab yourself a copy of TSUFIT's book "Step Into the Spotlight!--'Cause ALL Business is Show Business!" or a copy of TSUFIT's CD